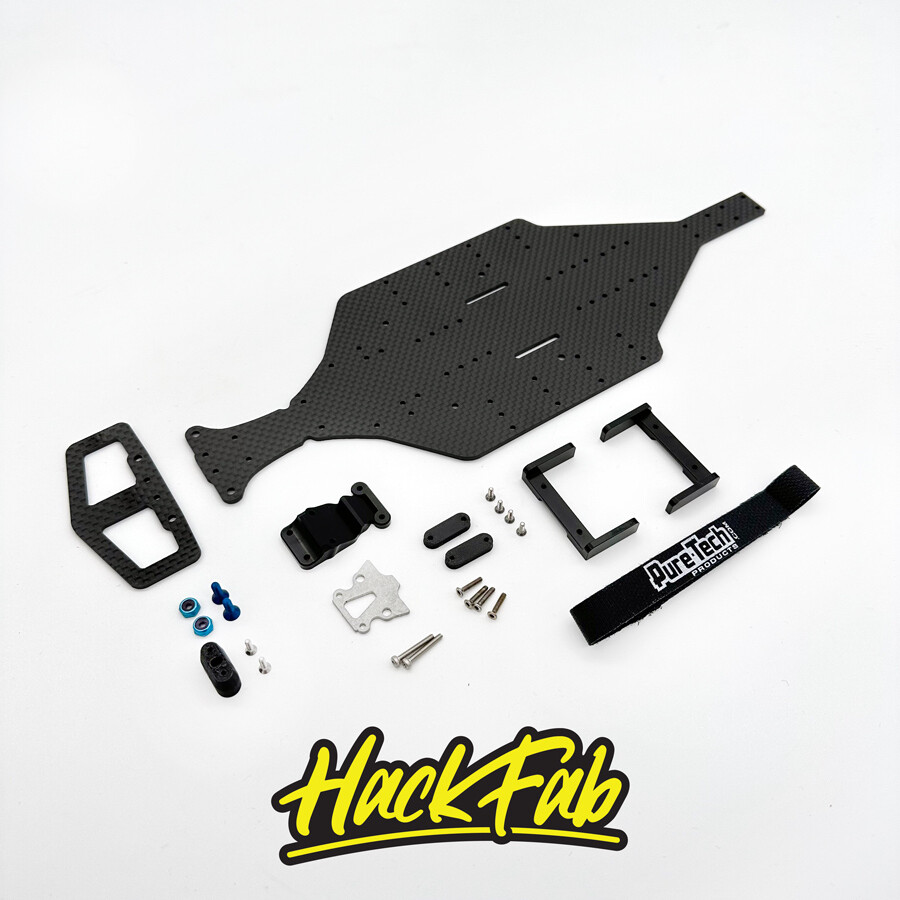 Losi Mini No Prep Drag 225/239 Carbon Chassis Conversion
HFB01007
Product Details
https://www.hackfabhobbies.com/products/hfb01007?u...

Our Mini Drag 225/239 conversion chassis takes some of the successes of the Slingshot kit and melds it with some of the best features of our Omni kit.

This chassis conversion kit will convert your Losi Mini No Prep Drag Chevelle into a carbon fiber beast. Like the Omni, we threw the kitchen sink at it in terms of adjustability. We designed it to work with the stock Losi 2s hardcase lipo or some of the more popular 2s mini lipos that we use in our oval cars (like the Powerhobby 2000mah 2s - Length: 81mm, Width: 31mm, Height: 15mm). Note that the Powerhobby lipo will only fit in the inline position at the full 239mm wheelbase configuration. Some other limitations in placement might also arise depending on battery and wheelbase configuration.
There is also an optional full size 2s shorty battery tray conversion available separately that will allow you to run slim LCG 2s shorty lipo packs.

Features:

Over 20+ possible battery mounting configurations
Dual wheelbase options (225mm and 239mm like the stock Losi Mini No Prep Drag Chevelle)
Dual servo mounting options (stock position and 7mm forward to allow for Savox w/o need for special servo mounts)
Works with the Losi Wheelie bar and body mounts
2.5mm thick carbon fiber chassis
What's included in the kit:
Mini Drag Chassis Plate
2x Chassis Brace spacers
Aluminum Kickup wedge
Aluminum Chassis spacer
Aluminum Battery brackets with built PureTech Products velcro strap
Carbon Fiber front bumper
All necessary hardware
Requires:
Losi Mini No Prep Drag car to convert
Save this product for later