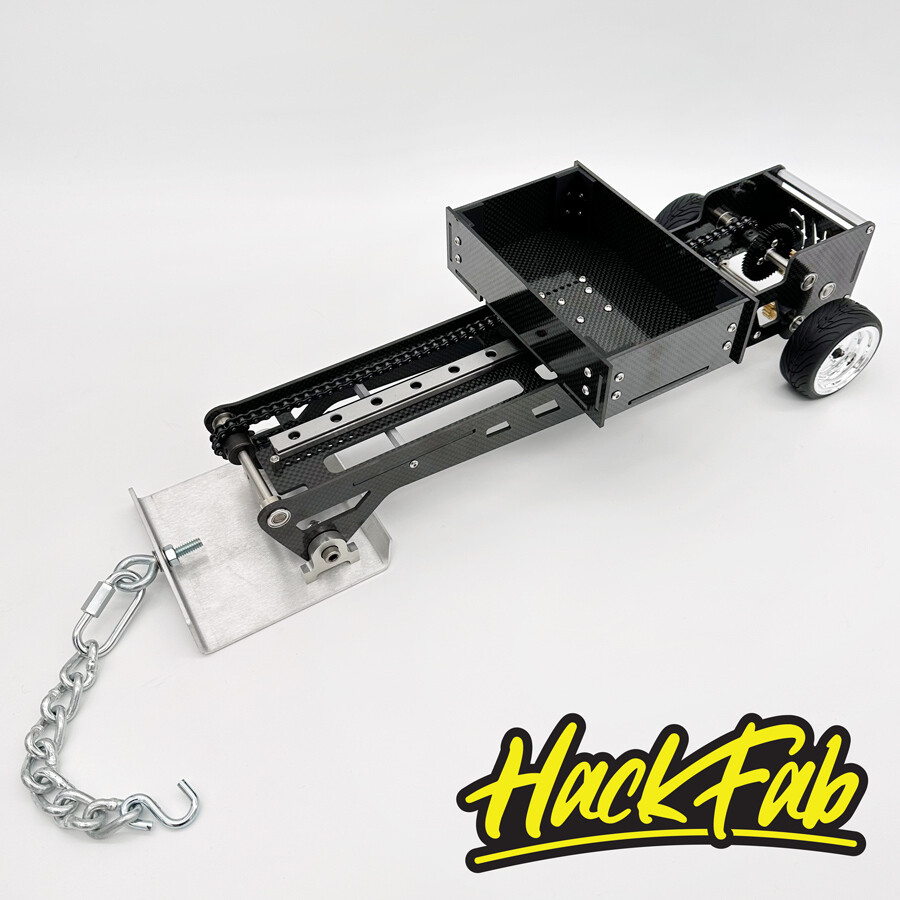 HackFab Mini R/C Pulling Sled
00158
Product Details
Now shipping.

In 2022 we purchased the production rights from JS Chassis Works who originally designed a Mini 1/24 r/c Pulling Sled. Having sold 15+ of them through the years, it was a tried and true sled design that worked well for the backyard enthusiast or even club competition. It's taken us a while to get these off the ground since acquiring the designs, due to trouble sourcing parts and streamlining processes.. but we're finally ready to roll out "production" sleds that we feel confident enough to bare our name.
We made only slight cosmetic changes from the JS design. The core functionality should be that of the original with the exception of adding a little more adjustability up to 17.5' in the event folks want to run longer tracks for 1/18 scale. The sled would be able to work for 1/24 and 1/18 scale.
Features:

Designed to have adjustable top out range from 12'-17'+ depending on track and the rules you wish to use. Top out is adjustable depending on where you put the stops for the weight box and could be altered further with gearing changes. Tire diameter will also affect end top out.
Lightweight sled design (under 3lbs) cut from 2.5mm carbon fiber

2.5mm thick aluminum skid pan
Weight box and axle fully supported and riding on bearings. The weight box rides on 12mm linear bearing rail with dirt sweepers. Corners are 3D printed but should hold up fine. Optional screw holes in box if you wish to install posts to mount weights instead of using box sides (posts not included).
Steel chain and stainless steel hardware
12mm hex hubs
Firebrand chrome dished touring car wheels/tires

Includes:

Assembled pulling sled and skid pan

DOES include an eye hook, length of chain, and s-hook to attach to the pan. Pan may ship detached from sled for easier shipping. Screws to attach pan are included.

Requires:
Weights of some sort

Dimensions:
Assembled Sled Frame w/ skid pan: 18.25" long x 6.5" wide
Weight box: 3.5" x 6" x 2.5"
Skid pan: 4" x 6"


Notes:
We did not apply any threadlock to the gear set screws or other components on the sled while assembling these. It is highly recommended that you do so prior to running it. Some additional adjustments may be needed depending on your preferences.
Save this product for later