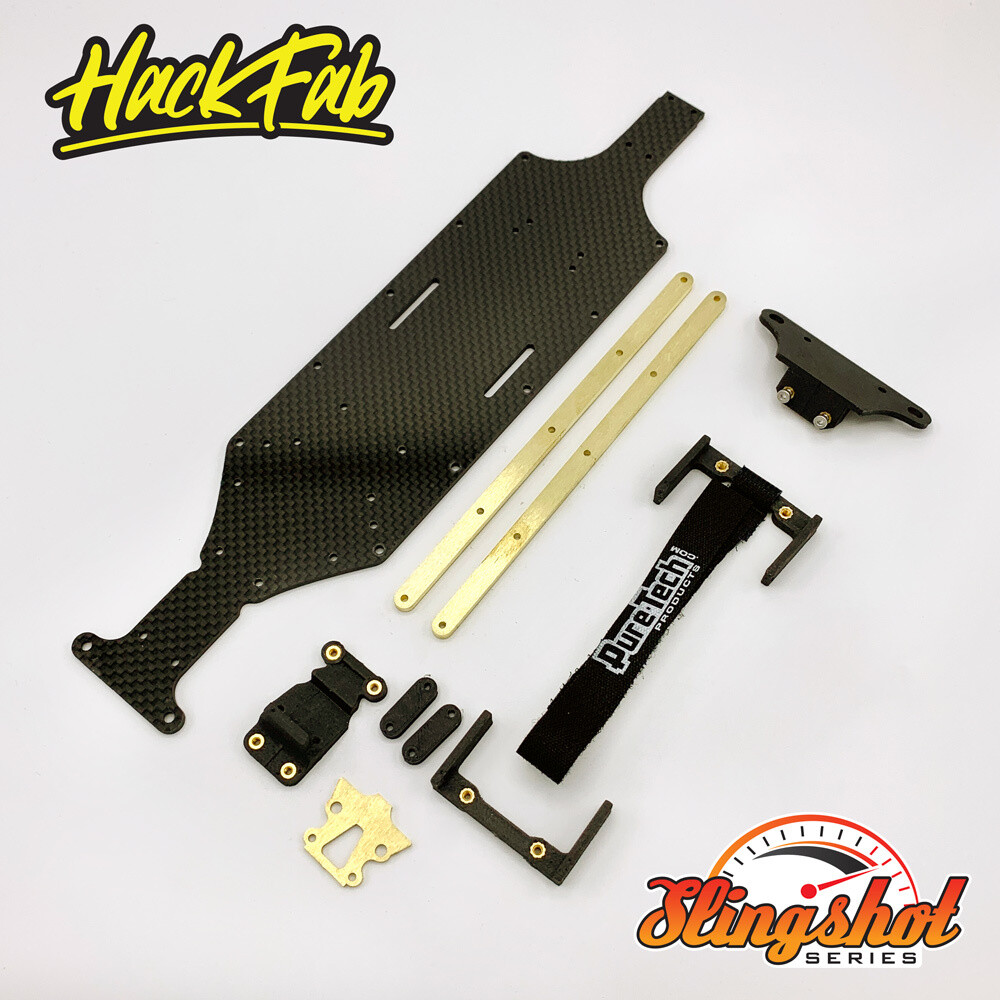 Losi Mini-T 2.0 Slingshot drag chassis conversion kit
00031
Product Details
NOTE: The current generation of the Slingshot has a rear winglet on the chassis similar to our Omni and Oval chassis. This will not work well with the New Losi Mini Drag car's wheelie bar/rear body mount system. Remember we designed this like a full 2 years before the new car's release. We're working hard on an update that will allow use of the stock components but as of now, you cannot run certain HackFab components with certain Mini Drag components. The Front Bumper does NOT fit under the chevelle body. The Mini Drag rear body mount does NOT fit our Mini-B carbon rear tower.

Based on our top shelf Mini Late Model conversion for the Losi Mini-T 2.0. This chassis extends the wheelbase on the car even further. It's slimmed down for an in-line battery placement for balanced center mass. It was designed as a "drag" car but might be fun on a road course as well (we haven't tried that yet).

The Slingshot was designed with Tamiya M-Chassis Mini (M03, M05, M06, M07, M08) bodies in mind. They are almost a perfect fit width wise (tires will stick out ever so slightly). Those familiar with the Mini scene know they have bodies available in three wheelbase options (210mm, 225mm, and 237mm). For our conversion, we're only offering the 210mm and 225mm options as they are the most popular and we think the 237mm may be a bit much. This should provide more than enough body options.
This will be a more specialized offering than our oval kit (smaller runs, less included in base kit due to extreme variety that might be needed to accommodate users desired body). It will be sold WITHOUT a bumper, rear body mount extension, and body posts. Most will be available as add-ons when configuring your kit. The pictured wheelie bar on the 225mm kit is also not included, and is available separately.

Cars shown are also running Tamiya M-Chassis tires (Sweep Racing slicks in super soft compound on Tamiya wheels). To mount these, you need the optional 8mm to 12mm hex adapters. Flanged wheel nuts are also recommended.

What's included in the kit:
Lower Chassis Plate (210mm or 225mm wheelbase)
Rear Body Mount w/ 5mm through-hole for easy adjustability
2x Chassis Brace spacers
Kickup wedge
Brass Chassis spacer
Brass side rails w/ screws
Battery brackets with built-in PureTech Products velcro strap
All necessary hardware

Optional add-ons:
Front Bumper
Rear body post extension
Body posts
8 to 12mm Hex Adapters
Wheelie bar

Electronics mounting may be tricky, as space will be limited. We are working on a printed waterfall part that would offer an esc mounting plate on top.
We also include 1/8" thick brass chassis siderails that act as both chassis weight and stiffeners. This is only offered in one length for both chassis options. For the 210mm, they run the entire length from front to rear of the chassis. On the 225mm, they can be positioned either fully forward or fully backward (about an inch difference).

Lipo length will be limited on the 210mm wheelbase version, with a little more flexibility in the 225mm version. The battery brackets are 35mm wide and should fit most size lipos in this scale. If a battery doesn't fit within that width, you could trim off the ends of the braces or just not run them at all - the chassis still has holes for strapping tape.

The battery brackets, kickup wedge, and rear body mount are all 3D printed parts (carbon infused polycarbonate). As such, the fit and finish may vary slightly from the photos. Due to the nature of 3D printing, items may contain minor visual blemishes. The battery brackets, kickup wedge, and rear body mount all include threaded brass inserts so the included m2 hardware will have a firm hold on the part and you do not have to worry about the screws pulling out of the plastic.
If you have any questions, PLEASE DO NOT HESITATE TO ASK.
Note: Car in photos is pictured with optional carbon fiber shock towers. These are NOT included in the base conversion kit.

Save this product for later