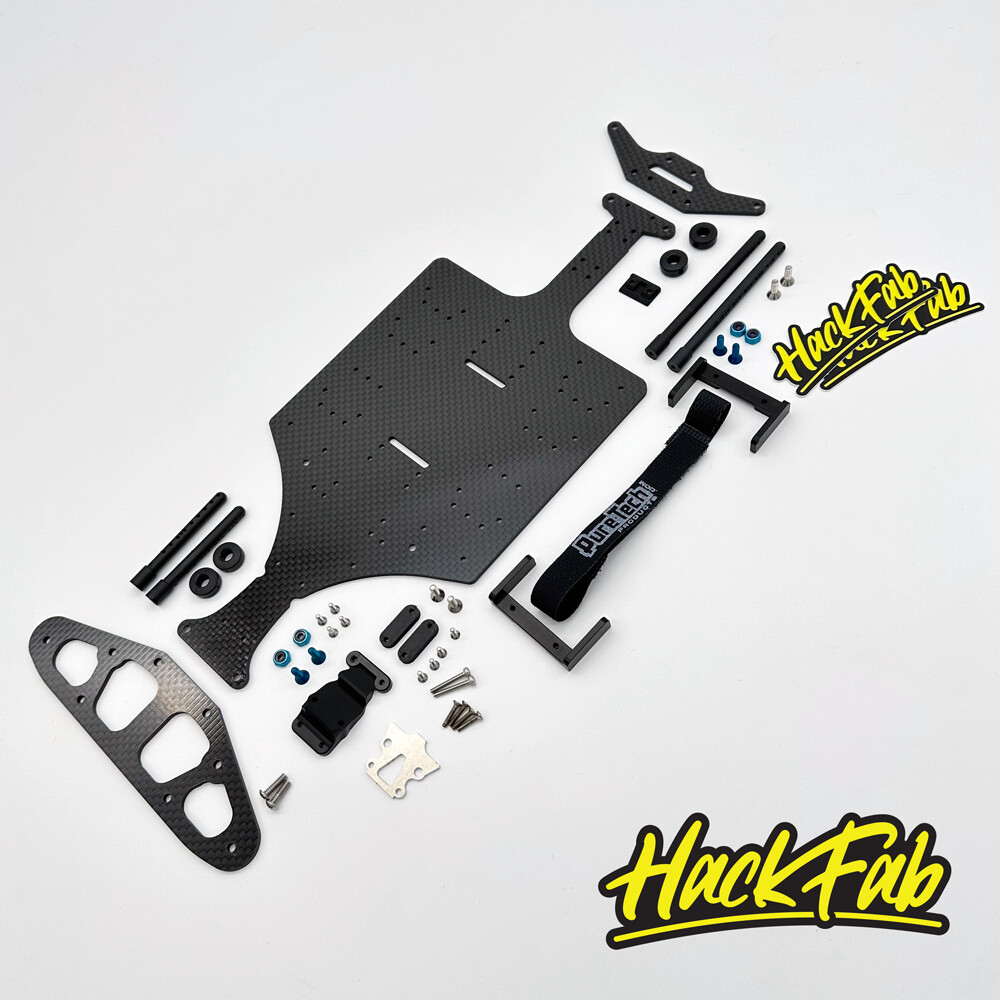 Losi Mini-T 2.0/B Omni chassis conversion kit V2.2
HFB01005
Product Details
The hotly anticipated OMNI has been updated to V2.2 status!
New for the V2.2:
Added material to the nose of the chassis plate
No more 3d printed rear body mount - now it's a carbon plate that mounts off the rear winglet in the chassis - making the design universal between the Mini-T 2.0 and Mini-B donor cars!Aluminum battery brackets and kickup wedge now included standard!


Our on-road / touring / multi-purpose platform chassis conversion. OMNI meaning omni directional, so not just for oval like our Mini Late Model and EDM conversions.

This chassis conversion kit will convert your Losi Mini-T 2.0 or Mini-B into a full fledged road car. We threw the kitchen sink at it in terms of adjustability. There are SO many options, it will likely make your head spin.
Features:

Over 20+ possible battery mounting configurations
Dual wheelbase options (204mm for McAllister Mini Late Model size bodies, 210mm for Tamiya M-chassis bodies)
Dual servo mounting options (stock position and 7mm forward to allow for Savox w/o need for special servo mounts)
Built in winglet in rear chassis to allow for mounting a rear bumper (coming soon), or our Wheelie Bar w/o needing to run the titanium lower mounting plate (the lower aluminum block can bolt right to the chassis)
2.5mm thick carbon fiber chassis, bumper, rear body mount extension
What's included in the kit:
Omni v2.2 Chassis Plate
2x 2" body posts with screws (front)
2x 3" body posts with screws (rear)
2x Chassis Brace spacers
Aluminum Kickup wedge
Brass Chassis spacer
Aluminum Battery brackets with built PureTech Products velcro strap
Carbon Fiber Rear body mount (not shown in above assembled car photos)
Carbon Fiber front bumper
All necessary hardware
Requires:
Losi Mini-T 2.0 or Mini-B to convert
Body of choice

Body suggestions:
McAllister #267 Monte Carlo

McAllister #287 MINI 69 MUSTANG

Protoform Europa M Clear Body (may require our original style rear body mount)

There are slews of others.. just look up M-Chassis bodies. You will find a large selection in Japan/China from vendors like Tamiya, RCMart, Ride, Xpress, ABC Hobby, etc.. just make sure it has a 210mm wheelbase and it should be close.

The kit should work with most of the McAllister bodies for minis including the Late Models, NASCAR COT, NASTRUCK, Street Stocks, and others. They may require the front bumper (included) which will bolt right to the front of the chassis and allow putting the body posts up by the front tires for most Late Model bodies. Others might be able to get away with taller body mounts on the chassis (not included) or using the stock body mounting posts on the shock tower. The rear wheelbase position allows for 210mm wheelbase bodies such as those for the Tamiya M-Chassis / Mini cars which have a very similar width to them.

The chassis is universally designed to fit "most" medium capacity Lipos, ranging from the stock pack to those such as the Turnigy Nano-tech 1500mah 35-70C 2s and a slew of others (Venom 2000mah 25c 2s). Not knowing what people will want to run and what classes may develop, allowing for fitment of a larger capacity battery to pair with optional brushless options seemed like a logical choice. The battery brackets are 35mm wide and should fit most size lipos in this scale. A foam strip is included if you need to tighten up the width of the bracket.

Speaking of battery options.. let's get into that. There are DOZENS of potential battery mounting options built into the chassis. They include:
Transverse mounting (from right to left like in the Losi Mini-B

3 positions for transverse mounting - forward, mid, and rear
Each position has 3 available width slots to fit batteries from the stock 58mm long lipo to the Nano-tech 89mm long lipo
In-line mounting (between the servo and the waterfall)
There are 2 battery bracket mounting positions here, mostly for smaller packs ranging from the stock 58mm up to 63mm long if you move both brackets to the outermost holes
Left side only (for you oval guys)
Granted, this has less chassis offset than our Mini Late Model conversion, it does offer the ability to be versatile and can run left offset.
Left side battery options allow from stock size 58mm lipo to 89mm lipo
Right side only

The pinion/spur allow for a little less length in lipo on this side - it can fit from stock to 79mm lipo
Right & Left
If you are REALLY up for some craziness, you could run DUAL lipos on the left and right side with the purchase of an additional battery bracket set (not included)
Just for kicks
We also included some battery strap holes for transverse mounting that allow for basically any other battery, included a 1/10 size shorty if you felt so inclined.
If you have any questions, PLEASE DO NOT HESITATE TO ASK.
Note: Car in photos is pictured with optional carbon fiber shock towers. These are NOT included in the base conversion kit.

Save this product for later