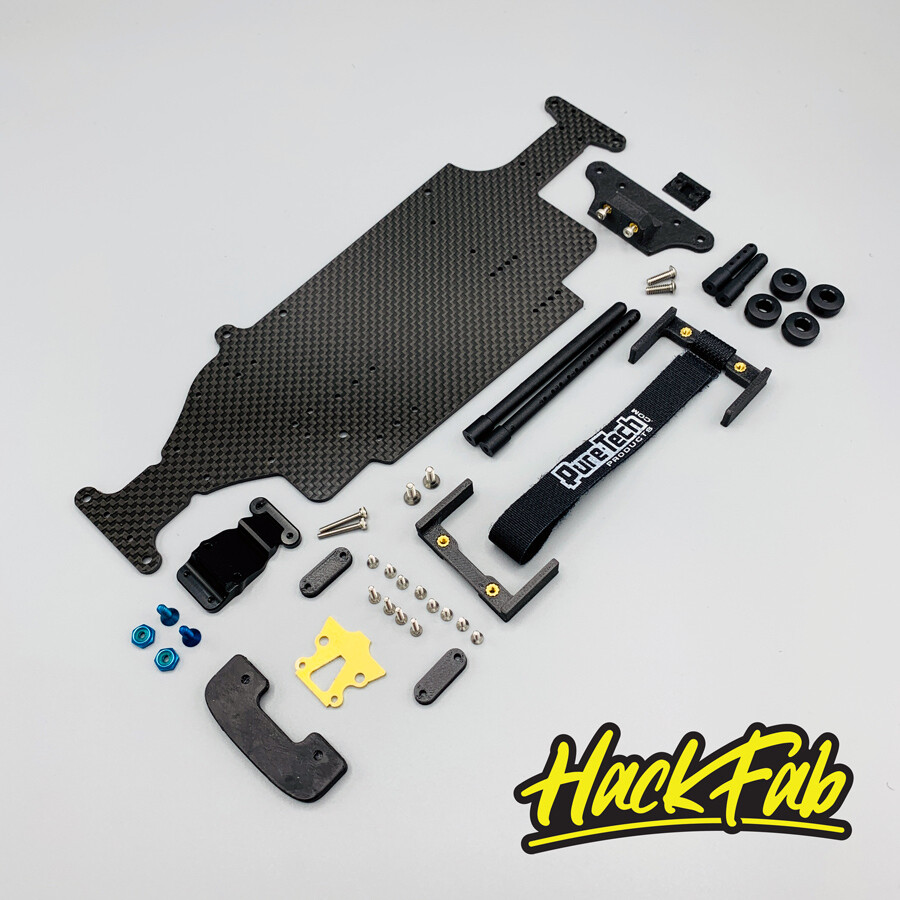 Losi Mini-T 2.0 Vintage Modified Oval chassis conversion kit
HFB01006
Product Details
https://www.hackfabhobbies.com/products/hfb01006?u...
This chassis conversion kit will convert your Losi Mini-T 2.0 into a Vintage Modified oval car. It brings the wheelbase to around 193mm (similar to the Losi Mini-B). It provides a slight left offset (as much as the body will allow) and was uniquely designed around the McAllister Oswego (and currently unavailable Trenton - the silver one in our photos) modified bodies.
What's included in the kit:
Lower Chassis Plate
2x 3" body posts with screws (front)
2x 1" body posts with screws (back)
Rear Body Mount w/ top mount holes
2x Chassis Brace spacers
Kickup wedge (aluminum)
Brass Chassis spacer
Battery brackets with built-in PureTech Products velcro strap
TPU front bumper
All necessary hardware

This kit should be all you need to convert your Mini-T 2.0 with the exception of McAllister body.
The chassis is designed to fit "most" small to medium capacity Lipos. The battery brackets are 35mm wide and should fit most size lipos in this scale. It will fit the stock Dynamite 650mah or 800mah 2s lipo with ease. If using the stock motor or Hobbywing you can run a battery upwards of 66mm in length (like the pictured MaxAmps pack). If running Hobbywing motor you can also trim the battery bracket to use the rear most hole for a ~70mm length pack. The chassis has an additional servo hole 7mm forward of stock to allow installation of aftermarket servo with straight horn (Savox). If you do this with a hobbywing motor and trimmed bracket, you can run up to a 78mm lipo. If using a larger can motor like the Dynamite, your battery options will be slightly less as it takes up more room. The 66mm MaxAmps pack is a great fit.

The nose of this car was designed as a snub-nose style and does not stick out as far as the EDM or Late Model conversion. This means the bumper for those kits is not compatible. The rear bumper should bolt up, but likely would not look ideal. We may develop something specific for that if there is enough interest.

The battery brackets and rear body mount are 3D printed parts (carbon infused polycarbonate). As such, the fit and finish may vary slightly from the photos. Due to the nature of 3D printing, items may contain minor visual blemishes. The battery brackets and rear body mount include threaded brass inserts so the included m2 hardware will have a firm hold on the part and you do not have to worry about the screws pulling out of the plastic.
If you have any questions, PLEASE DO NOT HESITATE TO ASK.
Note: This is a chassis conversion kit only. You will need to supply a donor vehicle to make a complete vehicle.

Note 2: To mount a Trenton body, use the same rear body mount, but attach to the FRONT of the rear shock tower with 2.5" body posts (not included)

Save this product for later