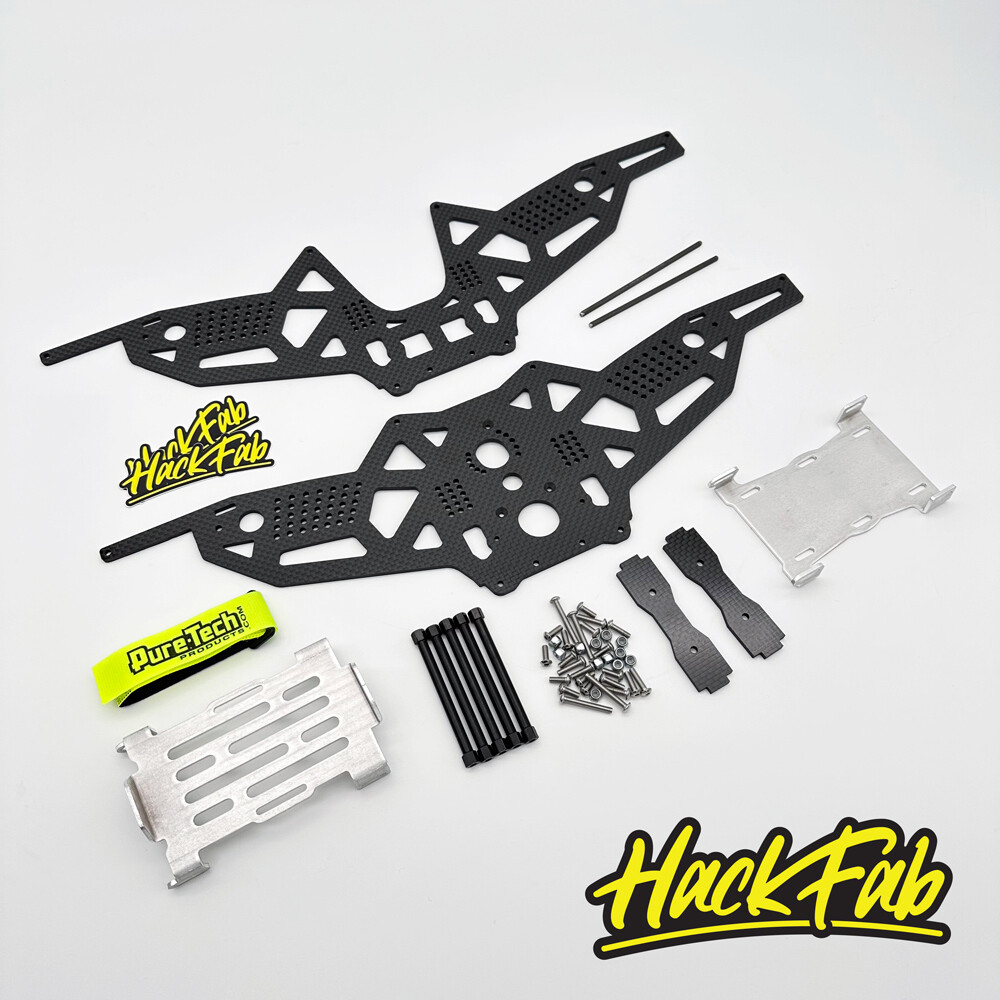 Losi LMT Starfighter XL LCG Race Chassis Kit
HFB01052
Product Details
https://www.hackfabhobbies.com/products/hfb01051?u...
The XL version is essentially the same as our regular Starfighter but has extended framerails to make it legal for the racing series that have a rule stating chassis must extend to the axles. With that came challenges - for instance the stock Losi LMT Sway Bars will not work with a single piece extended frame chassis - they will rub. We built our rig using a combination of Treal and CPE (Crawford Performance Engineering) sway bars to verify that both work. Neither sway bar set includes the correct length for the bar itself, so we are including those in our kit.

Looking to shave weight on your racing LMT? Looking to move weight lower into the chassis? Want to ditch the cage and simplify things? Well, the HackFab Starfighter LMT chassis will do just that.

This chassis kit will transform your Losi LMT into a svelte race rig. Offering single piece carbon fiber side plates, custom aluminum LCG (low center of gravity) battery and electronics trays, it will get the electronics weight lower.
Fits Shorty size lipo battery packs only (2s or 3s).

Uses stock style LMT center transmission/differential.

IMPORTANT:
You WILL need to provide your own Treal (or similar) lower links for shock mounting as well as shorter shocks (80-100mm) as well as hardware for mounting shocks. We used Team Associated B6 buggy rear shocks in our build. You will also need Treal or CPE style sway bars - Losi ones will hit the chassis rails.

Treal links and other parts available here


Includes:
Carbon Fiber side plates
Aluminum chassis crossmembers
Carbon Fiber body mount crossmembers
Aluminum LCG battery tray (Shorty style size only)
Aluminum LCG electronics tray
PureTech velcro battery strap
Sway Bar center bars
Choice of Traxxas body mounts (6715 or 6815R)
Hardware

Requires:
Losi LMT base truck/donor vehicle
Treal or similar lower links to allow for link mounted shocks
Treal or CPE or similar aftermarket LMT swaybars
Shorter Shocks (80-100mm ideal)
Mounting hardware for shocks

Photos are for reference only. This is for only the chassis conversion kit shown in first photo.

Save this product for later