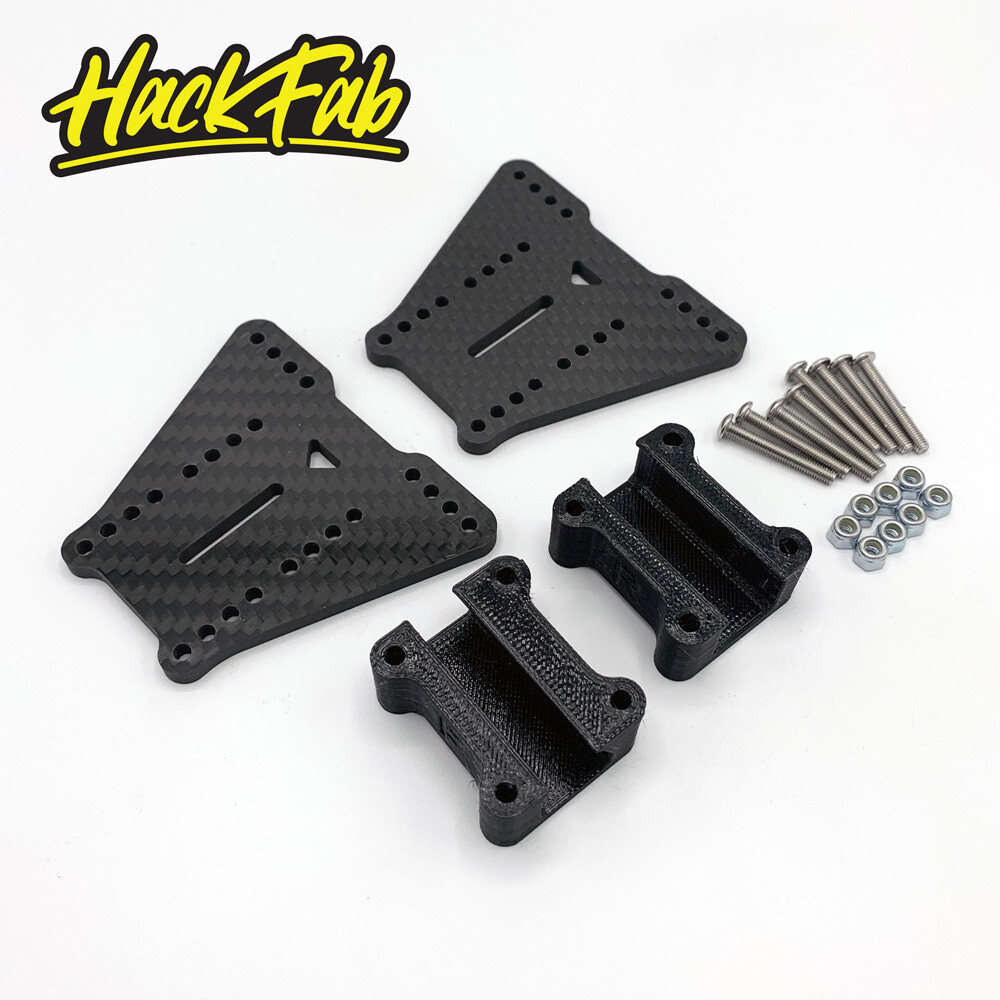 HackFab Universal Body Mount System for Traxxas Maxx
00032
Product Details
Introducing a new and unique product by HackFab RC. This is a universal body mount system for the Traxxas Maxx (not the X-Maxx). One of the biggest gripes we've heard about this awesome basher is the lack of body options that support the clipless cage system of the stock truck. While it's a cool system, it leaves those who want to run a unique body, wanting something more.

Enter our system. It uses a 3D printed (super durable and flexible TPU material) U-Bracket to clamp below the front and rear tower brace. The 4mm carbon fiber plate can be mounted facing forward or back, and can be adjusted to four positions forward or backward to work with almost any body. Likewise, the body posts can also be positioned in four different spots to support varying body post locations. This should allow virtually any 1/10-1/8 body within the Maxx's dimensions to be mounted. Note that posts are not included.
Includes:
2 U-Brackets
2 Carbon Fiber plates
8x M3 Stainless Steel button head screws
8x Nylock Nuts

Requires:
Body posts of your choice
(I personally used a combination of Traxxas 6815R and Traxxas 1914R, but any standard post that uses a 3mm or 4-40 mounting screw from Traxxas, Parma, Duratrax, or CRC should work). They don't need to be very tall unless you are trying to mount an SUV type body.
Other post options:
Traxxas 6715
Traxxas 6815R
Traxxas 1914R
STRC makes some short body posts in aluminum for the Slash/Rustler (ST1914G)
JConcepts JCO2083


Body mounted in photos is the JConcepts 2005 Chevy 1500 MT Single Cab. Part Number: 0399. It's a tad long but was able to trim the rear bumper to make it work. Some photos show our prototype which has changed shapes slightly (eliminated the "ears"), but mounting points are the same for reference.
The prototypes were tested and for the most part held up to light use, but for heavy bashing, it was clear we needed something with some "give" to it, in the event of a hard landing on the lid. This is why we went with the TPU brackets. We still have some of the Carbon PC brackets and 2.5mm plates from the prototype batch available in our Garage Sale section if you want to pick some up for cheap. They'd be great for show or light running.
Save this product for later