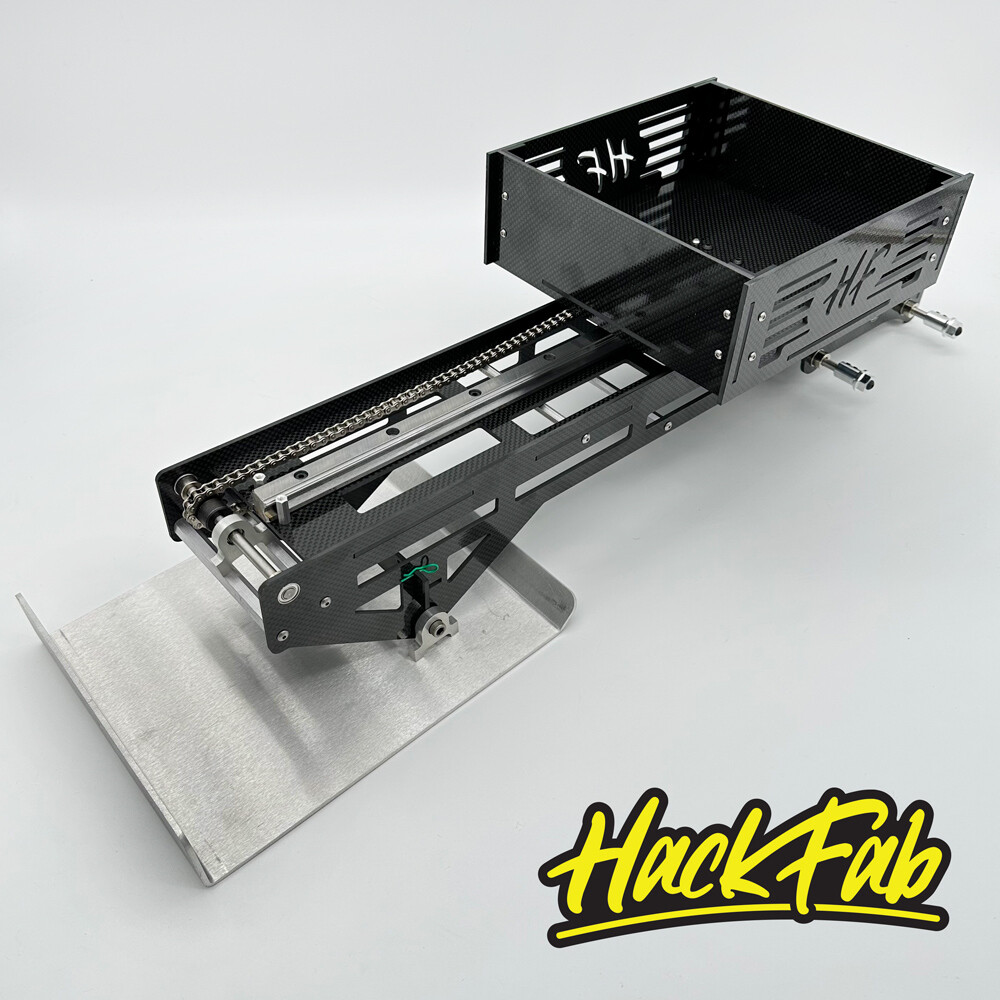 HackFab Evolution Dual Axle R/C Pulling Sled (Carbon)
00163
Product Details
New for 2023, we are now making these sleds out of 3mm carbon fiber.

We also now have optional 3d printed tire inserts for the optional Injora wheels/tires that make the tire very firm, to better support sled weight. Available for us to print, or download the file and print yourself (we recommend SainSmart TPU).

In 2021 we purchased the production rights from JS Chassis Works who originally designed the Evolution Tandem Axle Pulling Sled. Having sold 50+ of them through the years, it was a tried and true sled design that worked well for the backyard enthusiast or even club competition. It's taken us a while to get these off the ground since acquiring the designs, due to a combination of having other products take priority as well as trouble sourcing parts and streamlining processes.. but we're finally ready to roll out "production" sleds that we feel confident enough to bare our name.
We made only slight cosmetic changes from the JS design. The core functionality should be that of the original.
Features:

Designed to meet NRCTPA specs and top out just after 30'. Top out is adjustable depending on where you put the stops for the weight box and could be altered further with gearing changes. Tire diameter will also affect end top out.
Lightweight sled design (under 9lbs w/o tires) cut from 3mm carbon fiber

1/8" aluminum skid pan
Weight box and all axles fully supported and riding on bearings. The weight box rides on 15mm linear bearing rail with dirt sweepers
Steel chain and stainless steel hardware (stainless in product photos no longer available)

Includes:

Assembled pulling sled and skid pan (lexan mudguard pictured is an optional upgrade)

DOES include an eye hook, length of chain, and s-hook to attach to the pan. Pan will ship detached from sled for easier shipping. Screws to attach pan are included.

Requires:
12mm Hex Wheels and tires of choice (100mm in height or less is ideal). As an OPTION, we are offering cheap sets of 4 INJORA 100mm crawling tires and plastic wheels (require gluing). JS Chassis always recommended short course tires such as Pro-Line Slide Jobs or similar on 12mm wheels which should also work well.

Dimensions:
Assembled Sled Frame: 24" long x 8" wide x 8" tall (with tires) (approx 30" long with skid pan)
Weight box: 8" x 8" x 3"
Skid pan: 8" x 10"
Optional Mud Guard: 17" x 8"


Notes:
We did not apply any threadlock to the gear set screws or other components on the sled while assembling these. It is highly recommended that you do so prior to running it. Some additional adjustments may be needed depending on your preferences.
Also note, in photos, skid pan with lexan mud guard is flat at the back. This was an original prototype and we only had 1 of these. Production style shown with a 45 degree lip in the rear is what comes with all sleds.
In video below, a highly customized CEN F450 using TRX4 2 speed trans and axles using 3200kv Spektrum Firma motor on 3s pulling roughly 25lbs.

Save this product for later