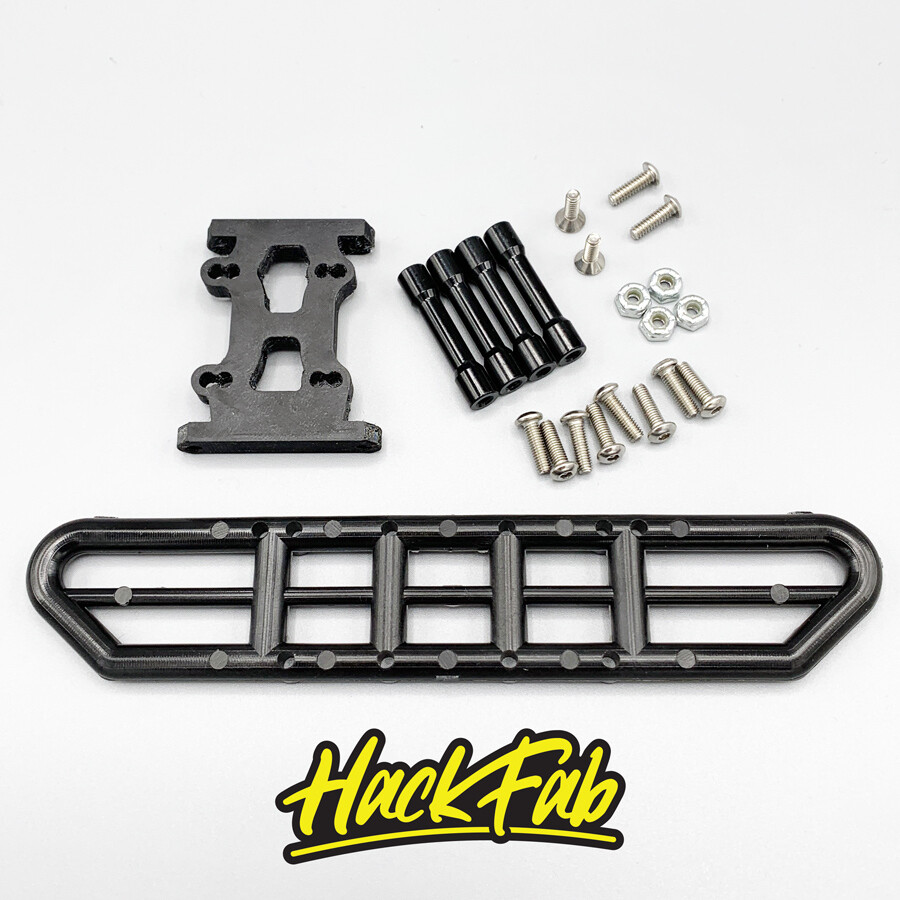 HackFab EDM / Late Model Rear Bumper
00090
Product Details
You asked, and we listened! Now there is a rear bumper option for our popular V2.1 EDM or Late Model conversion for the Losi Mini-T 2.0 or Mini-B. Does NOT work with the V2.2 using the chassis-mounted rear body mount!
This wide tubular bumper will protect your ride from the gnarliest of rear endings. It features an H shaped rear upright mount that is 3D printed in TPU material and flexes under impact. This will absorb some of the shock to the car and hopefully prevent breakage.
There are 2 mounting locations on the H upright. Mount it left offset if using a GT Bodies EDM body or mount it center (right holes) when using any other body.
Includes 30mm black anodized aluminum standoffs to mount the bumper to the H upright.
Kit includes:
1 Bumper
H upright
30mm black aluminum standoffs
2x 4-40 x 7/16 Button Head screws (to go from the top body mount into the H upright)
2x 4-40 x 3/8 CS screws (to go from the chassis lower mount into the bottom of the H upright)
8x m3x10 screws to secure bumper to either end of the standoffs
4-40 low profile locknuts

Will require a 1/16" and m2 hex driver along with needle nose pliers to install. If not running the rear body extension, you may need a shorter 4-40 x 3/8" top button head screw for the top mount.

This will NOT fit the Omni - we're working on something for that.. hang right.. This part is not backwards compatible with the original V1 or V2 EDM/Late Model chassis kits as it requires the new rear winglet on the back of the chassis on the v2.1

Save this product for later