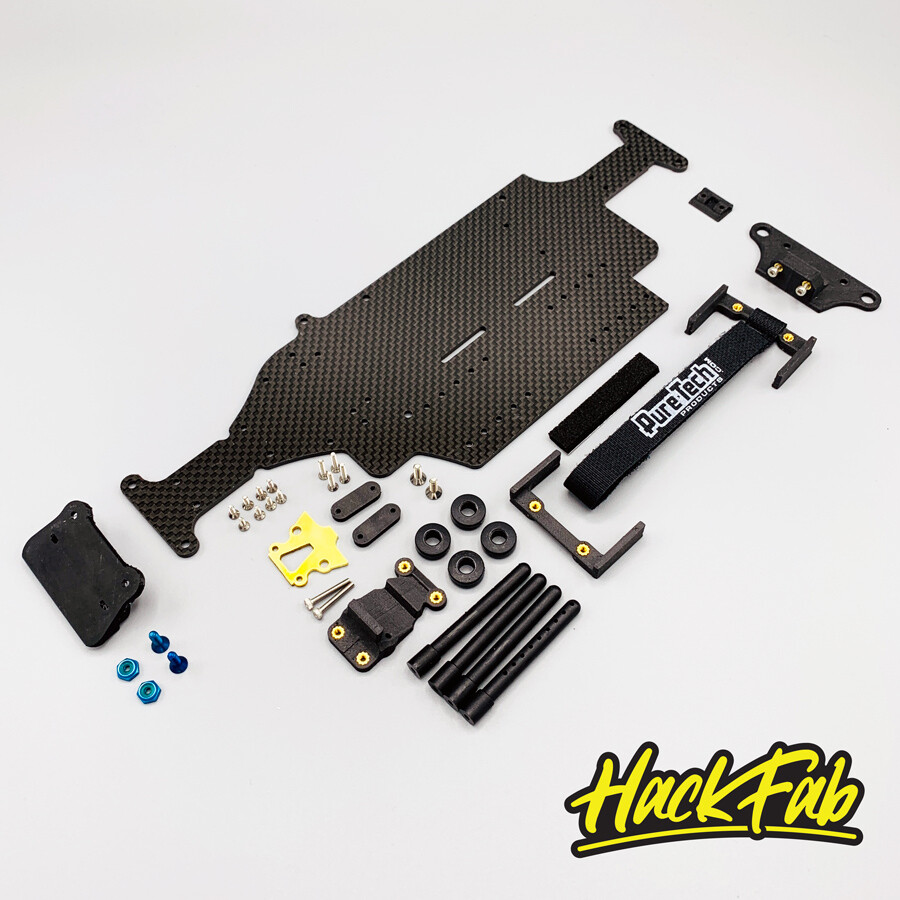 Losi Mini-T 2.0/B EDM Oval chassis conversion kit V2.1
00087
Product Details
The V2.1 is HERE!
Quick notes on the V2.1 chassis compared to the V2.
Backwards compatible with most V2 conversions and parts
Improved battery placement options
Bumpouts on chassis to provide more options for transponder or weight placement
Added rear bumper mount
Added nerf bar mount
Added additional servo hole 7mm forward of stock to allow installation of aftermarket servo with straight horn
Includes front nose mount for GT Bodies EDM body

This chassis conversion kit will convert your Losi Mini-T 2.0 into a full fledged oval car. It brings the wheelbase to that of the old 2010's Losi Mini Late Model - allowing for all of those aftermarket bodies from McAllister Racing and Kipps Hobbies to fit. It also provides a left offset weight bias for better handling.
What's included in the kit:
Lower Chassis Plate
4x 2" body posts with screws
Rear Body Mount w/ 5mm through-hole for easy adjustability
2x Chassis Brace spacers
Kickup wedge
Brass Chassis spacer
Battery brackets with built-in PureTech Products velcro strap
All necessary hardware

Does NOT include optional front bumper or rear body mount extension (recommended for Late Model bodies).

This kit should be all you need to convert your Mini-T 2.0 or Mini-B into a Mini EDM (Eastern Dirt Modified) with the exception of a GT Bodies body. Kipps Hobbies also makes an EDM body for the original Mini Late Model that will fit.
It should also work with most of the McAllister bodies for minis including the Late Models, NASCAR COT, NASTRUCK, Street Stocks, and others. They may require the optional front bumper (available separately) which will bolt right to the front of the chassis and allow putting the body posts up by the front tires for most Late Model bodies. Others might be able to get away with taller body mounts on the chassis (not included) or using the stock body mounting posts on the shock tower.

The chassis is universally designed to fit "most" medium capacity Lipos, ranging from the stock pack to those such as the Turnigy Nano-tech 1500mah 35-70C 2s and a slew of others. Not knowing what people will want to run and what classes may develop, allowing for fitment of a larger capacity battery to pair with optional brushless options seemed like a logical choice. The battery brackets are 35mm wide and should fit most size lipos in this scale. If a battery doesn't fit within that width, you could trim off the ends of the braces or just not run them at all - the chassis still has holes for strapping tape.

The battery brackets, kickup wedge, and rear body mount are all 3D printed parts (carbon infused polycarbonate). As such, the fit and finish may vary slightly from the photos. Due to the nature of 3D printing, items may contain minor visual blemishes. The battery brackets, kickup wedge, and rear body mount all include threaded brass inserts so the included m2 hardware will have a firm hold on the part and you do not have to worry about the screws pulling out of the plastic.
If you have any questions, PLEASE DO NOT HESITATE TO ASK.
Note: This is a chassis conversion kit only. You will need to supply a donor vehicle to make a complete vehicle.

Note 2: You CAN use this chassis conversion with the Mini-B, but need to specify so in the order notes so we can include the correct rear body mount!

Save this product for later